Cajun Prairie Society Boucherie
March 18 @ 9:00 am

-

March 19 @ 11:00 pm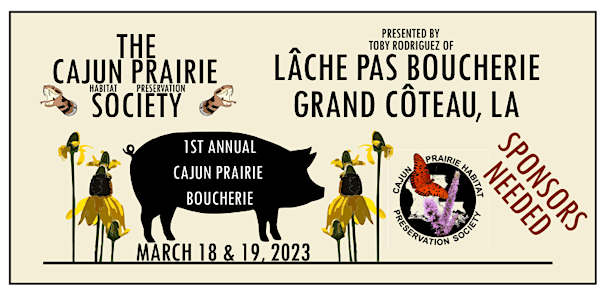 Bajat Trail 296 Savoie Ln Grand Coteau, LA 70541
https://www.eventbrite.com/e/cajun-prairie-society-boucherie-tickets-542115089827
Join us for a boucherie to help raise funds for the Cajun Prairie Society and a Cajun Prairie documentary that is currently under production. The Cajun Prairie Society is THE steward of Cajun Prairie preservation, restoration and education in Southwest Louisiana. And we need your help to continue to preserve, manage and teach about the native prairie of our region. So please show your support by joining us in this celebration of culture and tradition. Live music, food and drink will be provided.
*To purchase discounted tickets for 'Cajun Prairie Society members' please visit www.CajunPrairie.org and sign up for a membership before purchasing member ticket.
Patrons joining us for both days will have the opportunity to be involved in the entire process from harvesting to cooking. Living through these authentic traditional activities lends us a better appreciation of the sacrifice that farmers and their livestock give everyday.
For those coming only on Sunday, you will see the processing and complex array of dishes prepared with the meat from the freshly harvested pig. Live music, food and drink will be provided for the celebration. The activities will start in the morning and cooking will continue all day with dishes prepared for lunch and throughout the afternoon and evening.
Tent camping spots are available.